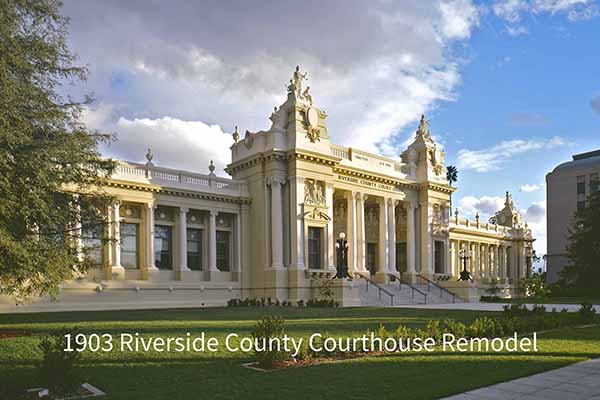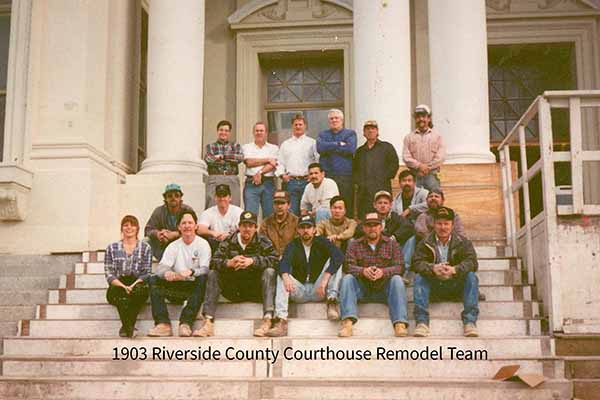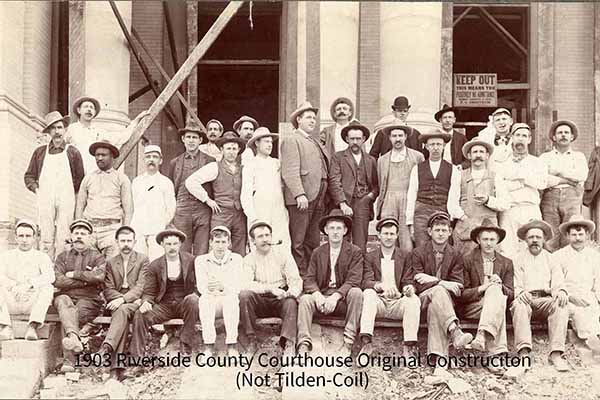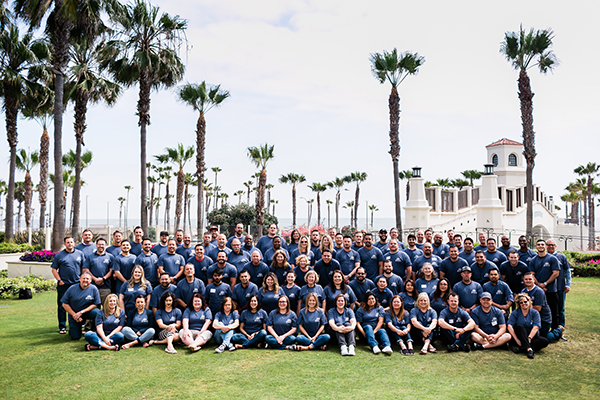 1938 Marshal Tilden began building homes for farm laborers and defense workers.
1971 Henry Coil, Jr. joined Marshal Tilden and transitioned into commercial, industrial and institutional construction.
1980's The company was recognized for its performance delivering medical facilities, banks, office and retail facilities.
1990's Henry Coil turned over management of the company to a dedicated leadership team of Tilden-Coil veterans. Tilden-Coil emerged as one of the premier builders of educational facilities in the Inland Empire.
1998 Tilden-Coil completed the renovation of the 1903 Riverside County Courthouse, a flagship historical renovation and seismic retrofit project.
2004 Tilden-Coil's leadership team documented its blueprint to serve clients through the company's Service Model.
Today Tilden-Coil Constructors, Inc. is committed to carrying on the culture that began in 1938. The leadership team of Tilden-Coil today continues to shape the firm in its growth and development with a dedication to quality, integrity and unwavering discipline towards the organization's purpose.
Our Service Model
A service model is simply a company's blueprint to serve. Similar to building a project, we understand the value of having well designed blueprints. It minimizes confusion, reduces assumption, and greatly increases the clarity for all that will be invested in the project.
Performance
---
What we have to do to be successful
"Plan, Communicate, Lead, Excel"
Without measurable performance, our Service Model is just a blueprint. If our team plans effectively, communicates the plan, and uses our influence to lead the plan, while striving for excellence in all that we do – the natural result is success. These four simple words encompass the Tilden-Coil Performance Criteria.
People
---
The people involved in working our process
Team Members
Our team members who work directly for the organization.
Tradesmen
Tilden-Coil tradesmen typically work in the field and include carpenters, millwrights, laborers, operators, shop, custodial and maintenance team members.
Partnerships
Individuals and companies who possess expertise upon which we rely, including:
Trade partners
Clients
Design professionals
Inspectors
Finance and banking professionals
Insurance and surety industry
Suppliers and vendors
Process
---
Our core systems that our people manage to operate effectively toward our preferred future
Development Process
Preconstruction
Production
Post-Construction
Business Development
Marketing
Sales
Client Services
Corporate
Operations
Human Resources
Information Technology
Finance
Plan
---
Vision – where we are headed
"Imagine a brilliant future shaped by passionate and equipped employees who serve with care, commitment and insight to enrich the experiences of our prospects, clients and communities."
Mission – what we do everyday
"We turn 2-dimensional plans into 3-dimensional reality."
Ultimate strategic position
"Helping clients navigate through the development process triumphantly."
Purpose
---
We Exist to Serve by Shaping Futures
This is the core of who we are, and the defined purpose of our organization. Our purpose stands proudly in contrast to many "standard" mission statements in our industry, because it revolves around those we serve, not ourselves. Our purpose statement does not mention the term "construction." This is because we view our purpose as greater than just the services we offer (building buildings); it is to positively impact the lives of those around us, which is much greater than just building great buildings.
Ultimately when our clients choose to hire us, they do so because they know they have an organization who is dedicated to shaping futures first; and will step outside of the traditional roles to serve and do whatever it takes to accomplish team goals.
---
Passion

Bringing enthusiasm and emotional drive to our work and life.

Commitment

A covenant to fulfill what we promise.

Quality

A high degree of excellence in all that we accomplish.

Balance

Placing an importance on a high quality of life.

Integrity

Our core values and actions are always congruent.
Dayne Brassard
President and CEO
Dayne is the fifth president in Tilden-Coil Constructors' over 80-year history. He has been a member of the Tilden-Coil team since 1995 serving as a Preconstruction Manager, Business Development Director and Executive Vice President. In his role as President and CEO, his first duty is to ensure the organization is fulfilling its purpose of Shaping Futures. To accomplish this much of his time is dedicated to individual development and mentoring to ensure our team members are up to the task of serving our clients at the highest level. Dayne also aligns Tilden-Coil's organizational resources to support client and community benefits, because part of shaping futures includes giving back to our communities.

"Awesome things happen when everyone in an organization is aligned around a common purpose. Tilden-Coil Constructors' purpose is simple; 'We Exist to Serve By Shaping Futures.' As builders, we have many opportunities to shape futures!"

Brian Jaramillo
Chief Operating Officer
Brian offers our clients over three decades of service and experience. In his first 12 years with Tilden-Coil Constructors, he managed hundreds of millions of dollars in construction projects and emerged as a leader in production growth and service. He spent 15 years as President of the company, and under his leadership the organization re-structured to double down on its focus on client service through the development of the company's Service Model. His leadership is based on example, the highest standards, and accountability. With a focus on the Global Greater Good, Brian serves on several charitable committees and is committed to making a difference within his sphere of influence.

"Our commitment, effort, and sacrifice today enable us to meet our intended objectives tomorrow."

Greg Lackey, CPA, MBA
Chief Financial Officer
As Chief Financial Officer, Greg, who has been a member of the Tilden-Coil team since 2006, is responsible for accounting, finance and information technology. In addition to strengthening Tilden-Coil's financial position, the company has benefited from his implementation of finance and accounting practices into the production process. Precise budgeting, forecasting and business awareness throughout the production process has promoted greater efficiency, exactness and accountability.

"Tilden-Coil is always looking to add value and enhance the lives of those that we serve. This includes fellow employees, subcontractors, clients, and our community partners. We have nearly a century of rich history and experience to draw from, and our goal is to ensure that the path of service we have followed will be the same path for many generations to come."

Steve Worley
Project Executive
Steve has been a member of the Tilden-Coil team since 1994. Steve's career with Tilden-Coil Constructors has entailed the management of K-12 and higher education construction encompassing all aspects of the project from conceptual and planning to completion of construction. Steve is considered an expert in K-12 and higher education planning and program management. Steve also chairs Tilden-Coil CARES non-profit organization, which guides Tilden-Coil's philanthropic efforts to be most effective at impacting our communities.
"I have learned that being a servant to our clients and our employees is key to a successful organization."

Jason Howarth, LEED AP
Project Executive / Preconstruction
Jason has been a member of the Tilden-Coil team since 2009 serving clients and leading preconstruction. Jason's role is an integral part of our extensive planning process. Jason has a diverse background, having completed multiple large-scale hospital projects (regulated by OSHPD), as well as K-12 and higher education bond programs. His leadership, organization and ability to strategically guide projects through challenging planning and development obstacles are among Jason's greatest strengths.

"Tilden-Coil's Service Model is real to each team member. The heart of the model provides clarity of purpose for which we align ourselves to our clients. It is not about us, it is about those we serve."

Robert Krzyszkowski
Production Director
With well over two decades of construction experience, Rob, who has been a member of the Tilden-Coil team since 2008, equips and empowers our production teams and improves their effectiveness. His knowledge and experience ensure the highest quality and service to each of our clients. Rob's experience is diverse and includes educational, retail, mixed use, hotels, tilt-up, tenant improvements, remodels, commercial ground up and subterranean parking. This transfers to our teams as a wealth of knowledge and support.

"My contribution is focused on forming great teams and supporting them to be successful in the field. Our track record for excellence is foundationally based on respect, listening, and serving our clients, design partners, inspectors, and tradesmen."

Matt Breyer
Project Executive
Matt brings with him over three decades of construction experience and has been a member of the Tilden-Coil team since 1996. During this time he has been dedicated to managing a diverse range of public works projects, including completion of well over $200 million of construction at Mt. San Antonio College. Matt is an expert builder with a knack for diplomacy and motivating teams toward shared goals.

"While we recognize that change is important, and inevitable, at Tilden-Coil we take great care to value things that never change. These include hard work, serving our clients and our communities, and treating our partners and our people fair."

Marty Greenwood
Project Executive
Marty is a results-oriented, hands-on Project Executive and joined the Tilden-Coil Team in 2013. With over thirty years of industry experience, he has a verifiable track record of successful projects in both the private and public sector. Marty's hallmark is his unwavering commitment to client service and helping his clients navigate through the development process. He has a strength for taking a project from concept through completion while meeting client goals and objectives.

"Our service model is what sets Tilden-Coil Constructors apart from our competitors and makes us stand out to our clients, as well as our industry partners. We do so by creating a team environment, being fair but firm, solution oriented, with an un-wavering commitment, and a 'we will not fail' attitude. We hold ourselves to the highest standards and will not settle for anything but the best. Simply put, we are here to serve."
Bryant Ismerio
Project Executive
Bryant has been a member of the Tilden-Coil team since 2008 and has served in multiple roles including Project Engineer, Project Manager and Project Executive. Bryant has spent his career leading a wide range of construction projects, from state-of-the-art higher education facilities to large-scale civic projects. He is known for his focus on client service and his ability to keep projects on schedule and within budget.

"Tilden-Coil's service model is about serving and shaping the futures of those around us and the communities we serve. When our staff, tradesmen, and partners are aligned on serving others instead of ourselves, the results we achieve are exceptional!"

Giving Back
Tilden-Coil has been built on a philosophy of giving back and a mindset of philanthropy.
At Tilden-Coil we are not just a team of builders, our company purpose (described above) is to serve by shaping futures. This means in addition to serving our clients, we must also serve our communities and those who are less fortunate. We have several ways of engaging the communities in which we work including:
Community Projects
Tilden-Coil is involved in many community projects through donating time, resources and talent to achieve special projects such as: The Grove: Homeless Housing Project, the Loma Linda 9/11 Memorial, the Cesar Chavez Memorial and many more.
Community Programs
Through public-private partnerships we have achieved many great things. Perhaps the largest impact we have contributed to was the founding of the Starting Blocks learn to swim program; a partnership between Tilden-Coil, Riverside Unified School District and Riverside Community College District. It all started upon the completion of the Riverside Aquatic Complex, by Tilden-Coil in 2011. The program was conceived by the founding partners in order to achieve the following goals relating to underprivileged students: 1) provide free swim lessons to students for water-safety 2) provide students the opportunity to visit a college campus and gain exposure to water sports and 3) to promote a healthy lifestyle.
The first summer program took place in 2011 and has continued every summer since. Today, the program has served over 6,000 students throughout Riverside.
Education
We love getting students of all ages excited about engineering and construction. Tilden-Coil has contributed to developing and teaching multiple educational programs at the university level. These educational programs include construction management, building information modeling and sustainability in construction. We also add value to high school students through internships, mentoring programs, and inspire them through immersive learning environments during construction.
Leukemia & Lymphoma Society

In 2009 one of our own team members was diagnosed with Multiple Myeloma, a blood cancer. Our Tilden-Coil family immediately kicked into support mode for our family member in need. One of the ways we were able to support as a group was to form a walk team for The Leukemia & Lymphoma's Society's Light the Night Walk. That first year, we set a fundraising goal of $10,000. We had just three months to raise our funds. We knew this was a lofty goal, but we felt we could achieve it. Well, achieve it we did...and then some. In 2009, Tilden-Coil Constructors raised over $36,000 for The Leukemia & Lymphoma Society. Our efforts didn't stop there, in fact, they were just beginning. We followed up our flagship year with an even stronger effort and $60,500 raised in the fight against blood cancer!
To date, Tilden-Coil Constructors has raised over $844,000 for The Leukemia & Lymphoma Society. If you would like to help us meet our annual fundraising goal please visit our fundraising page here.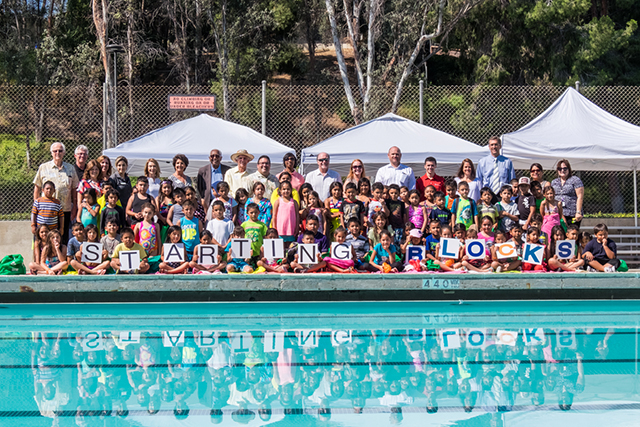 Tilden-Coil Cares
Tilden Coil CARES is a non-profit organization created by our Global Greater Good (G3) Committee. This employee driven committee "exists to serve by caring for communities." and is made up of a wide variety of Tilden-Coil team members and even outside partners who meet monthly. More specifically, this talented committee joins together in raising funds, and donating their time to various organizations and causes such as: The Leukemia and Lymphoma Society, Riverside Educational Enrichment Foundation (REEF), World Vision, breast cancer, blood drives, school backpacks, food drives, Inland Empire Christmas families, Compassion International, and many more. Every team member at Tilden-Coil has the opportunity to become a champion for the specific cause that they are most passionate about, and our G3 Committee serves as the vehicle to make it happen.
Donate Here
Diversity and Inclusion
We believe we can only live our purpose of "Shaping Futures" when our team members not only share common goals and values, but also represent a diverse range of backgrounds, skills, perspectives, and experiences. We are dedicated to attracting, developing, and retaining a diverse workforce because we know that it makes us stronger and helps us to better understand and serve the needs of our clients. It is important that our team members reflect the communities that we serve, and we actively seek to hire a diverse workforce. This includes not only investing in a diverse workforce internally, but also working with other industry partners and non-profit organizations that share our commitment to this philosophy.
By valuing diversity in all forms, we are creating a workplace where everyone can thrive.
In 2021, Tilden-Coil Constructors was recognized by Cal Poly Pomona and the College of Engineering for its culture and practices that support diversity, equity and an inclusive community. As part of the "An Inside Look…" series, Tilden-Coil showed students what life looks like within the organization, and how diversity should be celebrated within a healthy organizational culture.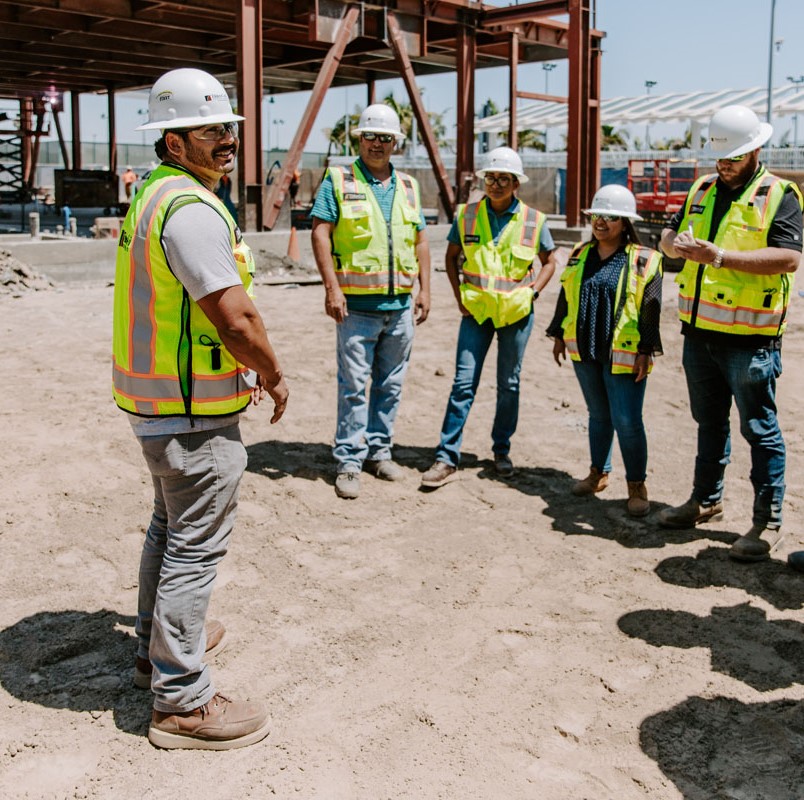 Smart Sustainability
We uniquely understand the importance of "sustainability" and embrace the development of new innovative building methods which allow increased efficiency and conservation of resources. Tilden-Coil embraces sustainable practices in our operations whether our clients are seeking formal certification or not. This includes local sourcing of construction materials, material waste and re-use, ensuring indoor air quality is protected and purchasing products with recycled content.
We also understand what clients expect in regards to quality construction and functional facilities. We plan, manage and provide solutions that meet our client's goals and objectives. Our staff is mindful of how various aspects of construction must interface with the "green" building process and how even the smallest efforts make a difference in the environment.
We also have experience implementing energy projects including:
Solar structures
Wind turbines
CNG fueling stations
HVAC Replacement Projects
Energy Management Systems
Cogeneration plants
Thermal Energy Storage Tanks
Biosolids composting Plants
LEED® Certified™, Gold Headquarters
In 2013, after a large renovation, Tilden-Coil achieved LEED® Certification on our headquarters located in the historic old city hall building in downtown Riverside. In 2018 our Sustainability Committee achieved the goal of recertification at the LEED Gold™ level. The U.S. Green Building Council's LEED® green building program is the preeminent program for the design, construction, maintenance and operations of high-performance green buildings. Learn more at usgbc.org/LEED.